Catching up on the backlog, here's another week of daily photos.
November 15, 2010 - Fortuna Bay, South Georgia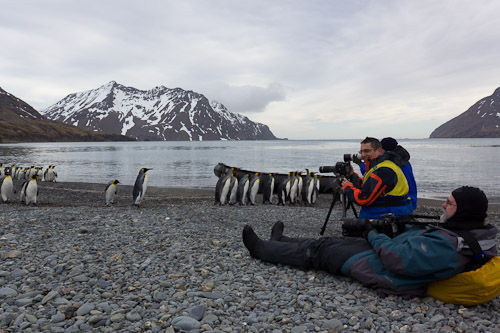 Just a snap showing some of the
workshop
participants enjoying the serenity of Whistle Cove. Many photos from this workshop will be appearing online soon: this is just a taste.
November 16, 2010 - Prion Island, South Georgia
There were unusually few Wandering Albatrosses around on Prion Island, traditionally one of the their nesting strongholds. We did find a few chicks nestled in the tussock grass, and occasionally they would lift their heads and stretch their wings (usually accompanied by the machine-gun stutter of camera shutters). Here one is just over the rise, and a camera in video mode is being used to work out exactly where.
November 17, 2010 - Gold Harbour, South Georgia
A bull Southern Elephant Seal throwing sand over himself in an attempt to stay cool. Our landing at Gold Harbour was magical, with temperatures in the 20s (Celsius) and bright sunshine.
November 18, 2010 - Scotia Sea
Having departed the islands of South Georgia to head for Antarctica proper, most of the weather was just grey fog. But at one stage we did see this huge tabular iceberg in the distance to port (this is actually a stitched panorama of lots of 600mm photos). This iceberg was many kilometres in length.
November 19, 2010 - Scotia Sea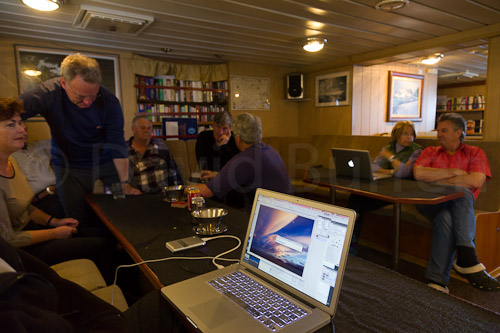 Another day of grey weather and rolling ocean. Some of us did spend a lot of time in the ship's bar processing and organising our photos from the preceding days.
November 20, 2010 - Elephant Island
Having bypassed the South Orkney Islands due to bad weather, we finally passed Elephant Island (legendary from Shackleton's odyssey) late in the evening. The sunset over Mount Pendragon was magical.
November 21, 2010 - Deception Island, South Shetland Islands
With a raging blizzard outside, this photo was made inside one of the huge oil drums at the old whaling station inside the volcano. Most of the photos outside ended up as monochromatic studies, so the colour of this one made me select it for the daily photo.
Continue reading "Daily photos: November 15-21, 2010"...